You may recall that I don't "love" dyeing eggs for Easter. I hate that my kids always make a mess. I hate that their hands are always stained for church the next day no matter how many wire whisks they use. I hate that I stress about it, and that it can't be fun for anyone if I'm there wincing every time they plop an egg in a cup. Hopefully I can get over it and try to enjoy this "fun" tradition! 🙂
I know there are some beautiful techniques and that it can be really fun to decorate Easter eggs. I needed some inspiration, so I searched the web for cuteness.
20 ways to Decorate Easter Eggs
Now these are just cool. The kids might not see the appeal here, but I love the look. New York Subway Eggs @The SoHo
These are so much fun! Plus the photo just makes me smile, reminds me of sunshine…remember sunshine? DIY Sprinkle Eggs @StudioDIY
Ummm…I want these. I want someone else to make them for me, but I don't think I could break these beauties. Polka Dot Eggs @la Receta de la Felicidad
No dye, and oh so pretty! I wonder if I can talk my kids into this…Decoupage Easter Eggs @Dizzy Maiden 
Are you flipping kidding me? How fun are these? Chalkboard Easter Eggs! @Oleander and Palm
If I do use dye, the solid ones are always my favorite. Add a mini mustache and BAM! Cuteness. Mustache Easter Eggs @Number 2 Pencil
Now these are cool, but I almost like just the designs before she tie dyed them more! Either way this is something different. Sharpie Tie Dye Eggs @Housing a Forest
These are pretty, and if you insist on using dye, they might as well be pretty! Watercolor Easter Eggs @Spoon Fork Bacon
I am absolutely, positively in love with this simple and adorable idea. No messes here, just cuteness! Thumbprint Eggs @Spoonful
I love the simplicity of these Anthropologie Inspired Hand Drawn Eggs from @Confetti Sunshine .
These pretties were done with tempura paint…it's a toss up though, it might be messier than dye…but it might be more fun! Swirly Eggs @Parents
Once again…if you're going to use dye, make those eggs pretty! Wrap lace around them first for a subtle, yet beautiful design with Lace Dyed eggs @At the Picket Fence.
Wow! These I am going to do. Without the kids. Marbling with fingernail polish! So beautiful and fun! Fingernail Polish Marbled Eggs @Henry Happened.
I love these silhouette Easter Eggs @Dear Lillie . She left some plain like this and then dyed others. I love them both.
Another great idea from @Housing a Forest-Melted Crayon Easter Eggs. Shave the crayons, and roll a re-boiled hard boiled egg in them while still hot to melt them to the shell. Add glitter for even more fun.
And another idea from @Number 2 Pencil, these eggs require no dipping and they are super bright. Maybe not the right technique for kids, but if you are just wanting some beautiful, vibrant and easy to do eggs for a party or for yourself, these are them!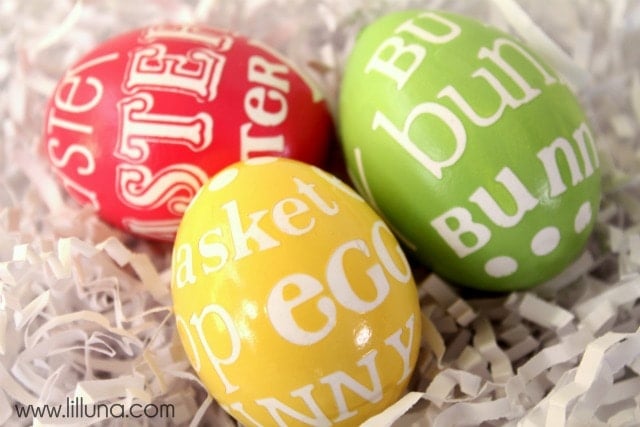 I would want to make these on something more permanent than a hard boiled egg that I am going to eat, because these would be so cute as decorations. Subway Art Easter Eggs @Lil Luna.
Now I know you have a huge stash of washi tape so why not pull it out and cover some eggs with it like these Washi Tape eggs @Eye Candy Event Details.
These are some of my favorites. I love that it just takes a Sharpie. I also love that they really are pretty with just the black and white. They look grown up. Sharpie Eggs @Obviously Sweet.
Once again the Sharpie wows me! Absolutely love that scripted egg. So beautiful! The paint pens on the brown eggs are fantastic too. Modern Easter Eggs @See Jane Blog.
So, now that I am all inspired to decorate eggs, I think I'll go boil some now…if my kids wouldn't want to "help" all the time, I would decorate eggs more than just once a year!
For more Easter Goodies, follow my Spring Pinterest Board:
How do you decorate your Easter Eggs?
The following two tabs change content below.
Tiffany is a stay at home mom to four ridiculously cute kids and wife to one smoking hot McDreamy lookalike. She loves the color white, chocolate chip cookies and sunshine. She is the founder of Making the World Cuter, where she loves to decorate, make cute gifts and fun printables.