It's February tomorrow! How are you doing on your resolutions? Cough cough…one of mine was to get a BUNCH of sign designs done and up in the shop. I really want to focus on my sign business this year as I have let it COMPLETELY fall by the wayside with life. I have a bunch of ideas and good intentions…but we all know what good intentions are right? Not good. January did not work out, so February is my month! I will be knocking those bad boys out, ordering some cute branded packing tape, and getting some cute Making the World Cuter signs in your homes! Today I sat down and doodled a couple out, and I have a couple designed that I just need to get onto the wood and take pictures.
Who's excited?!?
Next week is the Super Bowl, and like I mentioned earlier I already have my menu planned, friends invited…but I am thinking of adding something chocolate. Then Valentine's Day is in two weeks, I've got my 14 days of gifts all wrapped and ready for my hubby sitting in my room. They are all red and there are heart shapes all over my house and that makes me think of chocolate too. Maybe that's just my mood today, or maybe it's because I just looked at this delicious roundup! Whether it's a bad day pick me up or a way of celebrating a victory there is something comforting about a good chocolate recipe.
Chocolate Recipes
Easiest Chocolate Covered Strawberries | Peppermint Chocolate Cookies | Chocolate Peanut Butter Cheesecake | Firecracker Trifle | Chocolate Raspberry Cheesecake | Brownie Sandwich Cookies | Hot Cocoa Sticks | Almond Joy Hot Chocolate | Chocolate Chip Banana Bread | Chocolate Peanut Butter Cookies | Chocolate Pomegranate Parfait | Chocolate Peanut Butter Roll | Caramel Chocolate Popcorn | Brownie Cookies | Chocolate Waffles
This week I rounded up a bunch of awesome looking Chocolate treat recipes. The variety is great. You have figure friendly, vegan, decadent, calorie splurging, and even fruity chocolate recipes.
Marissa from Rae Gun Ramblings as today's hosts. And can you tell I've been craving chocolate?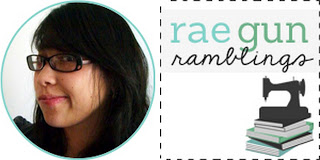 Here are a few of my favorite posts I've shared in the last month.
Your turn I can't wait to see what you have to share this week!
We'd love it if you pinned the Chocolate Recipes round up!
Link to a specific post, not your home page.
Don't add links to promote giveaways, other link parties or your shops.
Visit and comment on at least 2 other links in the party.
Don't link posts you've linked before.
This party starts Sunday @ 9pm EST and ends Friday @ midnight.
By entering a link, you give us permission to feature an image on our blogs. Proper credit and links will always be given.
Please link back to whatever blog you are linking from and let your readers know you joined the block party and invite them to do the same!
Link up to the Block Party and be featured on all four blogs!
Making the World Cuter | Rae Gun Ramblings | Keeping it Simple Crafts | Pieces By Polly

The following two tabs change content below.
Tiffany is a stay at home mom to four ridiculously cute kids and wife to one smoking hot McDreamy lookalike. She loves the color white, chocolate chip cookies and sunshine. She is the founder of Making the World Cuter, where she loves to decorate, make cute gifts and fun printables.