I have four kids. Therefore I have messy carpets. I am not a fan of cleaning carpets, especially when the spots don't tend to stay away. Don't you hate that?I want a green choice carpet cleaning, and am seriously considering calling in the big guns, but this weekend I am going to be trying out a few home methods that I found on Pinterest.
Cleaning Carpets | Removing Mud
Living in Oregon means mud, and four pairs of muddy boots trek through my front door on a pretty regular basis.Thistip from Simple tip looks like it should get the job done for good. I will be trying this out first in my entryway.
How to get Kool-Aid out of Carpets
We don't drink a lot of Kool-Aid around these parts, but when we do, or any other colored drink it always ends up on the floor. I have that same color carpet as that picture there from eHow Home and about 3 spots that are a little smaller than that one that I will be working on getting out tomorrow.
How to Get the Smell out of Carpets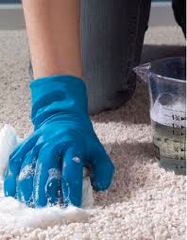 I really need to try this in my car. We have a funky smell that no matter how many times we scrub and pay for details…it just won't go away. Maybe you shouldn't lose a full open bottle of soy sauce on the way home from a dinner party and find the empty bottle weeks later under your seat. Not saying that's what happened…but yes, that's what happened. This Eco Friendly Chemical Free Carpet Fresh recipe from Craft Gossip is going on my list of things to try.
Cleaning Crayon out of the Carpet
My four year old is infamous for his art work all over my walls and carpets and nothing can seem to stop him from expressing himself. This kid can sniff a crayon out like nobody's business. You leave him alone for 30 seconds and you have a masterpiece of wax imprinted on the floor. I think it's about time to give him a fresh canvas with this tip from mom.me.
Magical Carpet Cleaner
Now this tip from Lizzy Writes is a tip I have used many many times and I'm telling you it is MAGIC! I can get the stains out all over the place with this baby. When I have a little spot or mess of spots like those above, I pull this out and they are gone in a matter of minutes.
I will probably have to hire the professionals here in the next month or two,(you should have your carpets cleaned once a year, or more depending on amount of traffic). It is nice though to have a full arsenal of tips and tricks to get those annoying spots between visits to keep carpets looking good.

Now It's Your Turn!

What is your favorite tip for cleaning carpets? Do you have a miracle cleaner?
The following two tabs change content below.
Tiffany is a stay at home mom to four ridiculously cute kids and wife to one smoking hot Mc Dreamy lookalike. She loves remodeling, chocolate chip cookies and sunshine. She is the founder of Making the World Cuter, a site committed to doing just what the title states; Making the world cuter, one kid, DIY, yummy treat or crafty thing at a time.